"Gonna be a Music Millionaire!"

– Official tagline.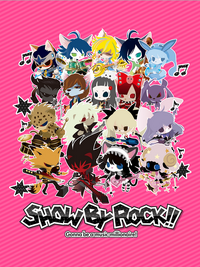 Show by Rock!! (ショウ・バイ・ロック!!, Shō Bai Rokku!!?) is a rhythm type of game developed and published by Geechs, in conjunction with Sanrio. The game was released on July 30, 2013 for iOS and on June 27, 2014 for Android devices.
The game was first unveiled by Sanrio on the game's official website and was first released on July 30, 2013 for iOS and later on Android platforms on June 27, 2014. Sanrio's Chief Director of License Business Akito Sasaki said at a licensing expo that the reason for the game's artistic distance from Sanrio's usual style is because it is geared toward young boys. Several promotional videos were also released for the game, and were uploaded to Sanrio's official YouTube account.
The game plays as a rhythm game with few elements from raising sim games. Players can choose 20 different bands, each having their own music style and uses special cards for each gameplay. The player can play more than 40 official tunes from the start of the game, and can only use up to six cards per level. As it clears each stage, the player level up and doing so gains access to more songs and content. Special songs can also be played during boss battles as well.